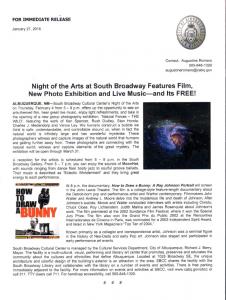 Night of the Arts at South Broadway Features Film, New Photo Exhibition and Live Music--and It's FREE!

Albuquerque, NM South Broadway Cultural Center's Night of the Arts on Thursday, February 4th from 5--9 pm offers up the opportunity to see an arts-themd film, hear great live music, enjoy light refreshments and take in the opening of a new group photography exhibition, "Natural Forces--THE WILD," featuring the work of Ken Spencer, Rush Dudley, Stan Honda, Charles Medendorp and Vance Ley. We humans construct a bubble we think is safe, understandable and controllable around us, when in fact the natural world is infinitely large and has wonderful mysteries. These photographers witness and capture images of the natural world that humans are getting farther away from. These photographs are connecting with the natural world; witness and capture elements of the great mystery. The exhibition will be open through March 31.

The South Broadway Cultural Center is located at...